If you have indoor pets in your home, you will defiantly want to take them out with you. The carrier and backpacks are the best way to carry your pets comfortably while enjoying your adventure. Cat carrier comes in different shapes, styles, and sizes with multiple features.
Moreover, these backpack and carrier make traveling easy and comfortable for you with your best pets. The main objective of the carriers and backpacks is providing security to your pets. Therefore, you can enjoy your trip by keeping your hands free as well. However, there some important things to consider!
What Should I Look for in a Cat Carrier Backpack?
There are plenty of cat backpacks and carriers available on the market but choosing the best one according to your need makes you more comfortable. If you have a pet and traveling too much then you have to purchase the airline-approved carrier and backpack.
Above all, multiple cat backpacks and carriers are ergonomically designed and offer breathable or durable carriers. Hence, all backpacks and carriers are different according to their quality, material, and services.
Are you planning to go for camping, cycling, or hiking then the shoulder straps carrier are the ideal for you? Due to the padded shoulder strap, your lumbar spine and cervical spine feels comfortable while carrying your pets. Some of the pet owners like traditional carrier and others want some trendy backpack. It allows you to carry your pet with you and enjoy your adventure at the same time.
In this article, you will find the proper and authentic guidelines to purchase the best cat backpacks and carriers of 2019. Specifically, we will present you with ten highly innovative products after conducting some researches and taking reviews from various users of cat carriers and backpacks. Therefore, our team completed each phase carefully to collect the best items that will be highly productive for you and your pets.
Quick Picks: Best Cat Carriers & Backpacks
Product Name
Price
Material
Primary Features
Dimension
Carrier Weight
Check Price
Innovative Traveler Backpack by Texsens
$$$
PU Leather & Net
Semi-sphere window,
Padded shoulder strap,
eco-friendly
12.99-inch X
9.05-inch X
15.75-inch
07-10 lbs
Check Price
Deluxe Carrier by PetAmi
$$
Fabric & Net
03 safety buckles,
multiple storage,
Sherpa lined bedding
12.5-inch X
10.2-inch X
16.3-inch
> 18 lbs
Check Price
Top-Load Kennel by AmazonBasics
$
Plastic & Steel
Heavy-duty design,
secure construction,
two doors
23-inch X
15-inch X
13-inch
25 lbs
Check Price
Foldable Carrier by SportPet Designs
$
Molded rugged plastic
Foldable carrier,
Side opening door,
reliable lock system
15.2-inch X
18.5-inch X
14.2-inch
> 25 lbs
Check Price
Premium Cat Carrier by PetLuv
$$$
Rubber
Tear resistant,
Foldable sides & tops,
Nap pillow
24-inch X
16-inch X
16-inch
> 45 lbs
Check Price
Pet Backpack Carrier by Natuvalle
$$$
High-quality Fabric
Water-resistant, 6-in-1 ,
Super Sturdy,
Chest Strap
20-inch X
10-inch X
14-inch
18 lbs
Check Price
Bubble Hiking Backpack by AntTech
$$
Oxford quality Fabric
Semi-Sphere design,
Ventilation holes,
Washable soft pad,
Scratch-resistant
11.3-inch X
8.2-inch X
16.5-inch
08-10 lbs
Check Price
The Original Backpack
$$$$
Mesh
Air-holes,
Adjustable strap,
A side pocket,
Screen & Bubble attachments
17-inch X
9.4-inch X
12.2-inch
15 lbs
Check Price
Premium Carrier Backpack by Pet Magasin
$$
Mesh
Waterproof,
support removable board,
Airline approved backpack
17-inch X
13.5-inch X
11-inch
20 lbs
Check Price
Pet Carrier by Wacky Paws
$$
PVC air-mesh fabric, Nylon, Polyester
Ventilation system,
Breathable carrier,
Shoulder strap
14.5-inch X
6-inch X
14.75-inch
> 10lbs
Check Price
If you are looking for the best cat backpack and carrier for your pets then read on and find out our ten best product reviews. In particular, these reviews will help you to purchase the best carrier and backpack for your pet according to your preferences.
The Texsens presents the best cat bubble backpack, which has a semi-sphere window. If you have small pets like dogs and cats then this backpack will help to carry your pets with ease in traveling. It is an eco-friendly carrier that takes less effort. The adjustable shoulder padded straps provide comfort to carry your pets. Moreover, it comes with a mesh panel, security leash, and ventilation holes, which helps the pets to breathe with freedom.
Additionally, the side and top entries increase the accessibilities for your pet as well as the soft pads are washable. Your pet can also enjoy the outside worldview safely with you due to the semi-sphere window. Furthermore, the manufacturer uses the durable net and PU leather to construct the best backpack that makes it scratch resistant and abrasion resistant.
Pros
This eco-friendly carrier comes with a ventilation system that helps the pets to breathe with freedom.
It is a cat travel backpack and suitable to carry your pets who have 07 to 10 pounds weight.
You can access the Texsens backpack in ten different colors that give a trendy look to the carrier.
The Texsens presents the pet carrier with 12.99-inch X 9.05-inch X 15.75-inch dimension and has 4.1 pounds weight.
It uses the leather and net material that makes it scratch and abrasion resistant.
Cons
It produces some irritating smell after some use.
The manufacturer constructs the perfect carriers for enhances the level of comfort and convenience for your pets such as cat or dog. You can use PetAmi carriers while traveling, going for a walk with your friends and family as well as it is most famous to use for cat backpack carrier hiking. It is suitable to carry your small size cats or dogs and another medium to small sized pets.
Moreover, PetAmi presents the backpacks with ventilated design, which offers optimal airflow, mesh zip-up window for visibility or headroom, and 02-way entry for easy accessibility. Your pet can also get relaxed and take rest inside the carrier because it has Sherpa lined cozy and thick bed. It has safety buckles and straps that prevent the pets in traveling. Additionally, the padded shoulder straps also provide extra comfort, support, and convenience.
Pros
The three safety buckles padded back, and padded shoulder provides extra support.
It is perfect to carry your small to medium sized pets with comfort.
The dimension of this carrier is 12.5-inch X 10.2-inch X 16.3-inch and has more than 18 lbs of weight capacity.
It is available in twelve different colors on the market.
It offers functional storage to keep the pet food, toys, and another accessory with you.
Cons
The overall quality of the PetAmi carrier is poor.
AmazonBasics constructs the heavy-duty backpacks by using durable plastic with the combination of steel wires. The steel wires are used to design the front door of the carrier, which gives security, strength, and visibility. It also has multiple ventilation systems on the back, side, and top of the kennel. The advance 02-door design enhances the accessibility for your pet's one on the top, and other in the front.
Furthermore, you can open the top door left or right according to your convenience. The black handle allows you to open the door. This graceful convenient design of the cat carrier keeps the pets secure, safe, and more comfortable especially in the traveling. Moreover, the built holes help your pets breathe with freedom. The AmazonBasics backpacks come with 23-inch X 15-inch X 13-inch dimension, which is suitable for small sized pets.
Pros
Plenty of ventilation holes are helpful for your pets for breathing comfortably.
AmazonBasics presents the heavy-duty best cat carrier backpack that has 23-inch X 15-inch X 13-inch dimension.
The durable plastic and steel wires carrier is most suitable for small sized pets.
You can use the most affordable product that is available in two sizes for carrying your pets with you for the walk or during traveling.
Cons
The quality of carrying handle is pathetic.
It is not a comfortable option because you cannot carry this carrier on your shoulder.
SportPet Designs presents the best kitty carrier that comes with sturdy construction and lock system. The molded rugged plastic material is used to design this carrier, which offers a secure lock system as well. Moreover, the reliable plastic helps you to carry your pets for any adventure and the lock system permits the security to secure your pets such as cats, dogs or others.
In addition to that, it is available in two different sizes on the market. You can use this foldable carrier for future use because it allows you to fold it for easy storage. This cat-friendly design carrier is ideal for your cats for the trips or taking on the road. It also has a comfortable more cozy SportPet bed inside the carrier where your pet can take a nap. Therefore, it is one of the good options to choose when it comes to pet backpacks.
Pros
It has a secure lock system that acts as a single motion lock for securing your pets in any adventure.
The easy storage due to the foldable mechanism makes it more popular as compared to other products.
This product has 15.2-inch X 18.5-inch X 14.2-inch dimension and suitable to carry the more than 25 lbs pet weight.
The padded inside bed gives a comfortable lounging area, which is also a dryer friendly and machine washable.
It has a durable clasp and handles that provide a comfortable grip to carrying the carrier.
Cons
The slide lock quality is pitiable that is not works longer.
The PetLuv designed the cat backpack carrier by using closable flaps and heavy-duty mesh that makes it tear resistant. It offers a roomy designed carrier with plenty of superior features that is best for your pets such as a cat backpack. Furthermore, if you are like to travel in the car and want to take your pet with you then the manufacturer designs seatbelt with it that has adjustable straps.
Additionally, it has four easy access panels for your cat that do not require any effort for in or out. The shoulder adjustable straps and carrying top handles allow you to carry it easily. A plushy bed is configured inside the carrier where your pets can relax. In addition to that, this bed is removable and machine washable.
Pros
The padded handles and carrying straps make it easy to carry in traveling.
If you have, a fat cat than it is best fat cat backpack and has adjustable seatbelt loops secures the carrier in the car.
It has four access panels for the entry, which gives a comfortable and luxury feel to the pets.
This product comes with 24-inch X 16-inch X 16-inch dimension and can carry more than 45 pounds of pets weight at once.
Cons
The tear-resistant feature is not working properly.
The quality of the zipper is very bad.
Natuvalle presents the best cat carrier or pet backpack that performs its functionality in six ways. You are able to use it according to your requirements or as your adventure nature. These are the six ways such as pet backpack carrier, pet front pack carrier, shoulder-bag carrier, handbag carrier, car-seat crate, as well as two position carriers. All way of a carrier has removable straps that give the easy and comfortable carrying way.
However, durable and high-quality fabric offers perfect carriers or backpacks, which offers a high ventilation system. The non-blended wooden sturdy floor, security zipper locks, hand washable bed, seatbelt loops make it more demanding product. Additionally, you can also keep the cat food, toy or another accessory in the carrier as well as you can also place the cat's photo in the photo ID tag.
Pros
The zips of the carrier come with a locking system that prevents the pets from opening the zip.
The high-quality fabric makes it water-resistant, which allows you to use it in all weathers.
It offers a high ventilation system for your pets that increases the airflow for providing a secure room.
You can use this carrier or backpack in different six ways such as pet front pack carrier, up-right position, handbag carrier, and much more.
It can carry 18 lbs weight of the pets and the dimension of the product is 20-inch X 10-inch X 14-inch.
Cons
It is not affordable for every pet lover.
The AntTech constructs the ideal kitty backpack carrier for you because it is made of premium oxford quality fabric and food grade PC. This durable fabric makes it scratch resistant. There are multiple ventilation holes for enhances the airflow, which is secure for your pets. Moreover, it offers side and top entries that increase accessibility. It increases more unconstrained and comfortable as well.
Furthermore, the plushy washable padded bed is configured inside the carrier that allows the pets to get calm. The semi-sphere window also reduces the risk of escape. It is especially for those pets who attempts to escape. It is suitable for main species of cats and dogs. These include Boston Terrier, Pug, Papillon, Yorkshire terrier, Pomeranian, Chihuahua, Maltese, Toy Poodle, Minature Doberman, Bichon Frise, and others small somatotype dog.
Pros
The AntTech carrier can easily fit those cats that have 8 lbs weight and dogs that have 10 lbs weight.
This product comes with 11.3-inch X 8.2-inch X 16.5-inch dimension and uses oxford quality fabric that makes it more durable.
The unique revolutionary semi-sphere window design provides an excellent view, breathable panel, and increases airflow.
It comes with comfortable adjustable padded shoulder straps that do not give pressure to your lumbar spine and cervical spine.
Cons
It is not much durable and scratched easily.
The zip quality of the carrier is poor.
The original cat carrier is the ideal backpacks for your pets because it has screen and bubble attachment. A clip is located inside the carrier for attaching a leash. You can also keep the pet's food, their toys, and another accessory in a sided pocket of the carrier. Moreover, it has a removable and washable mat. This carrier and inside mat provides a comfortable room for getting cool.
Nevertheless, your pet can feel comfortable for a long time during any adventure or trip. Multiple holes in the front side of the carrier that helps to breathe comfortably. The adjustable straps offer an easy way to carry the pet carrier. Furthermore, the straps come with a stylish design that can easily use as a car seat. If you have a pet with 15 lbs weight than the Original carrier is the perfect option for you.
Pros
The Air holes, adjustable strap, a side pocket, screen, and bubble attachments make the Original carrier most popular on the market as compared to other products.
This Original backpack comes with 17-inch X 9.4-inch X 112.2-inch dimension and can carry 15 lbs weight.
It is accessible in five different colors.
The ventilation system makes it an eco-friendly carrier.
Cons
This is a much expensive option for carrying your pet for travel.
If you are looking for the best outdoor pet carrier or backpack then the Pet Magasin constructed the premium carrier with plenty of features. The mesh lightweight and durable materials are used to design this carrier, which makes it sturdy, strong, and waterproof. You can confidently use this carrier during the traveling because the hard supported board is inserted to maintain the shape of the carrier.
Furthermore, the front mesh and ventilated sides are beneficial for your pets. Your pets can enjoy 360 views as well as can breathe easily for a longer time. Therefore, your pet can enjoy with you a great trip, flight, or hiking. This airline-approved carrier allows you to use it in the airplanes as well. The load capacity of the Pet Magasin carrier is 20 lbs.
Pros
This carrier acts as a portable kennel and a backpack and it has zip for opening the side panel for extending its size.
The material makes it more durable, flexible, lightweight, and waterproof.
This is an airline-approved backpack, which permits you to enjoy your light with your best pet.
It has 17-inch X 13.5-inch X 11-inch dimension and able to carry 20 lbs weight of your pet.
You can easily carry the Pet Magasin carrier or backpack on your shoulder comfortably.
Cons
It is only available in one color.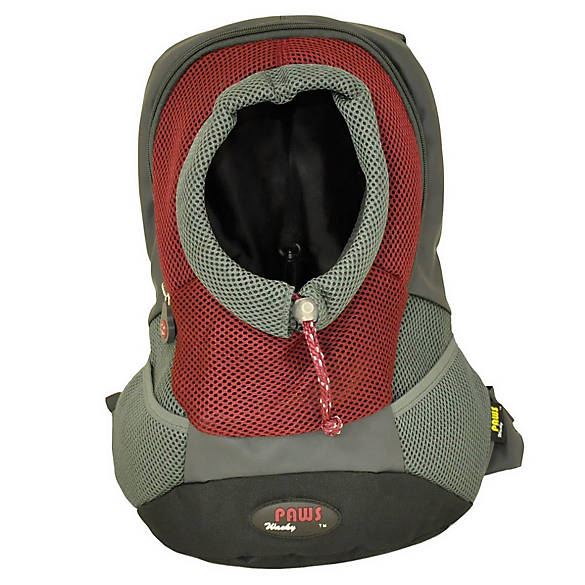 Wacky Paws designed the pet backpack with signature air-mesh fabric that makes it lightweight and breathable. The Polyester is used to design the back and base panel as well as Nylon for the lining. It provides a great ventilation system that increases the airflow inside the carrier. The hard rubber is also used to provide a great sense of balance. Besides, it also enables you to get a good grip of it.
In addition to that, it is suitable for small sized pets and it can carry more than 10 lbs weight. You can comfortably use the Wacky Paws carrier while hiking, adventure, or other trips. It is accessible in six different colors such as green, pink, blue, yellow etc. Moreover, the shoulder straps provide a comfortable way to carry the pets with you. Thus, this carrier offers plenty of convenience to you on the go.
Pros
The nylon, polyester, PVC, and mesh material make it more durable, lightweight, and breathable.
The base of the carrier uses the hard rubber that maintains the balance of the pets, especially in the traveling.
This best cat backpack and carrier comes with 14.5-inch X 6-inch X 14.75-inch dimension and can carry more than 10 lbs weight.
The shoulder straps make it easy to carry on your shoulder as well as balancing the weight of pet without any excessive pressure.
Cons
There is no padded bed inside the carrier for the pets.
In conclusion, after reading this article, you will able to purchase the best cat backpack and carrier according to your requirements. Plenty of carriers offer an eco-friendly environment to your pet where your pet can enjoy the trip with you comfortably and enjoy great ventilation system along with viewing the world. Now there is no need to leave your best pet at the home alone, you can carry them out with you by using the best carrier or backpacks.
We hope that you have found this post very helpful and informative. If in case you have any questions or suggestions for us then leave a comment below. We will be more than happy to hear from you.
Time to get fuzzy with your furry friend!